WiFi Baby 4 is a wireless video monitor and nanny cam that keeps you connected via apps on iPhone, iPad or Android at home or anywhere.
WiFi Baby Twins is a bundle of two complete WiFi Baby sets (Model: WiFi Baby 4) at a discounted price. The apps are expandable to view multiple monitors on screen simultaneously with audio and alerts.
$459.99 $379.99 (Save $80)
WiFi Baby was awarded 2016 Best Baby Monitor by The Bump, one of the top parenting websites: Read Reviews
Watch our 30 second app preview to see the features in action.
Features:
HD, 35% wider view (vs. WiFi Baby 3)
Updated Android app
Apple Watch audio alerts
No cloud, No recording fees
Night Vision Range: 30 Feet
Audio while using other apps
Up to 4 monitors on screen with audio, alerts
Streams to Apple TV, Fire TV and others
Small, Sleek Design (D: 3.3" x 3.3" x 1.2" W: 5.3 oz)
American, Family-Owned Company since 2010
WEBSITE EXCLUSIVE - Bonus Gift: FREE phone and tablet stand ships with purchase: LEARN MORE | ADD TO CART
FAST CHECKOUT OPTIONS: Apple Pay, PayPal OneTouch, or any Credit or Debit Card
ALL NIGHT PEACE OF MIND
WiFi Baby 4 features HD video with zero delay and designed for overnight monitoring.
The apps override your auto-lock setting so your device doesn't go to sleep when you do. You can turn your screen on or off while still staying connected.
See well beyond the crib with a 35% wide view. Zoom via apps for a closer look.

VIEW ANYWHERE. NO MONTHLY FEES. NO CLOUD.
Check in securely via iOS and Android apps from anywhere.
Unlike others, you are not connecting to the cloud.
You can also bookmark your baby to view on any desktop browser.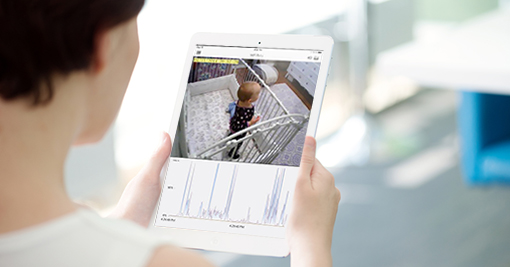 USE OTHER APPS WITH AUDIO, ALERTS
The iOS and Android apps are designed so if you leave the app, you continue to hear audio. Text, email and use other apps while still hearing your child.
Notifications: Audio notifications while using other apps.
Apple Watch Alerts: Audio notifications mirror to Apple Watch
Auto-Mute: Set a minimum level so you only hear what's important: Your Baby.
Overrides Auto-Lock: Designed for overnight monitoring, your device doesn't go to sleep when you (finally) do.
Multiple Users: Mom and Dad can check in at the same time via apps at home or anywhere.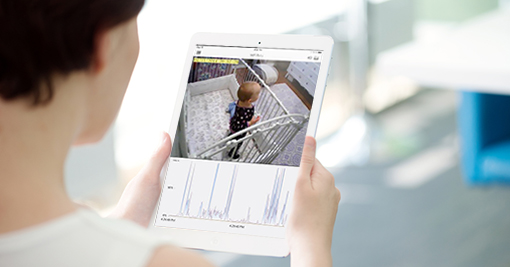 RECORD. SET YOUR SCHEDULE.
Add a MicroSD card and use the monitor's DVR to set a weekly schedule. Option to continuously record or a set time (ex. 9-5)
Unlike others, you are not uploading your video and recording to the cloud.
In The Box:
2 HD WiFi Baby monitors
WEBSITE EXCLUSIVE - Bonus Gift: FREE phone and tablet stand ships with purchase: LEARN MORE | ADD TO CART
2 Stands / Wall Mounts
2 Six Foot AC Adapters
2 sets of Mounting Screws / Anchors
Setup Software (or download from site)
Quickstart Guide
PLAYS WELL WITH OTHERS.
Compatible Accessories: In addition to working with iOS and Android phones and tablets you already own, you can also take WiFi Baby to the next level. WiFi Baby works with Apple Watch, Fire Tablets, Fire TV, Apple TV and other media players.
For more details and a full list LEARN MORE HERE.
FREE SHIPPING
Free shipping is offered on all orders. Delivery time averages 3 business days.
MYWIFI PRO: U.S. BASED SUPPORT
It's easy to setup WiFi Baby. Everything you need comes in the box.
Additional video guides to understand all the features, compatible accessories, tips and downloads for the monitor and apps are at our MyWiFi Pro site: mywifipro.net
Question? We include 90 days of complimentary U.S. based email and phone technical support with your purchase. These are trained (and friendly!) experts who will solve any question in a single call.